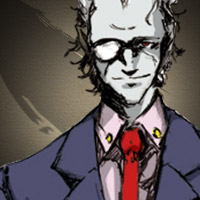 Welcome to The Masters of Animanga: A Wikia Collaborative Writing Project! Join with legendary icons of anime and manga to create three exciting, original stories based on their character designs and outlines.
Story #1: RedBat (writing has ended; submit fan art now)
Story #2: TAO: Rize of the Ying-yang (writing until Sept. 21)
Story #3: Stay tuned (launches Sept. 23)
Submit Fan Art: RedBat
Edit
The inspiration for our first tale, "Red Bat," comes from the mind of acclaimed manga artist and author Takashi Okazaki (Afro Samurai)! Hiroaki Ikegami and Masao Maruyama (Ninja Scroll, Trigun) are executive producers.
Okazaki's team provided descriptions of the world and its principal characters, as well as a couple of illustrations to get writers thinking. Here's the gist: the year is 2020, and in New York City, humans and vampires co-exist. Vampires don't need to suck blood anymore, however -- Red Bat, a monster corporation, provides artificially engineered blood to satiate the vampire's unique chemical dependency. Not everyone is feels hunky-dory about the state of things, however -- the "Vanarchists" are an extremist radical party advocating human supremacy and the downfall of not only the Red Bat corporation, but vampires in general. It was up to our users to expand on this premise.
Read More
Submit Fan Art
Community content is available under
CC-BY-SA
unless otherwise noted.